Your Guide to Teaching Kids How to Floss Properly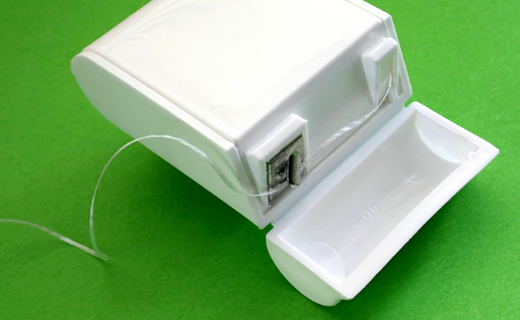 While flossing is heralded as an essential daily task for healthy teeth and gums, it rarely receives the due diligence that many people give to brushing their teeth. For some, it is lack of knowledge—flossing is not as simple as brushing—while, for others, the added time of the task is unappealing. And, for those who rarely floss, it can be a painful experience while their teeth and gums are finding rejuvenation in the task. These challenges with flossing can be easily avoided by teaching your child how to floss properly at a young age and instilling the habit early. Use this guide to make teaching kids how to floss simple and fun.
You can begin teaching your child about proper dental care before their first tooth emerges and introduce each tool in the process as their teeth begin to emerge. You can start teaching your child about flossing as soon as two teeth have emerged side by side. In the beginning, floss picks and sticks may make the experience easier, but you can switch to string floss as your child grows. Continue to monitor and assist their development and by the age of eight years old, your child should be capable of completing the flossing routine without your assistance, and value the experience as well.
Flossing every day is an important part of maintaining good dental health. Once-daily flossing, for approximately two minutes, is recommended. Food can become trapped between teeth and in crevices that a toothbrush simply cannot reach. When performed before brushing, flossing also helps fluoride from toothpaste and mouthwash to flow between the teeth. Like brushing, the goal is to work your way around the mouth from back to front on the top, bottom, left, and right.
3 Tips for Teaching Your Children the Proper Flossing Technique
Allow your child to choose his or her own dental floss. Floss is available in a variety of flavors and colors your child will enjoy, making flossing more fun.
Cut off approximately 18 inches of floss during your child's morning or evening brushing routine and have your child wrap the floss ends around their middle and index fingers on each hand.
Have your child guide the floss gently between their teeth moving from back to front working all the way around the mouth, top and bottom. Ensure that they are flossing between the gum line and on the sides of each tooth.
Your dentist in Baltimore can offer guidance on how to floss properly and recommend the best dental floss for kids.
To learn about our family dentistry practice in Baltimore, call Dental One Associates of Maryland today at or make an appointment.
Dental One Associates offers affordable family dentistry and gentle, compassionate dental care in Baltimore. With 11 affiliated practices throughout Maryland, our offices are conveniently located with extended hours to meet your needs. At Dental One Associates of Maryland, we provide most dental services, from basic preventative care and general dentistry to specialized procedures and complete dental reconstruction. We accept most dental insurance plans and offer affordable financial solutions for any budget. Patient satisfaction is our top priority and we strive to provide the exceptional, affordable dental care and personal touch that lead to lasting relationships. A smiling patient is our greatest reward and we look forward to keeping those smiles healthy, beautiful, and bright. Discover an affordable dentist who truly cares at Dental One Associates of Maryland.