Posted under:
General
Posted on: April 12, 2015
Your First Visit – Did You Choose the Best Dentist?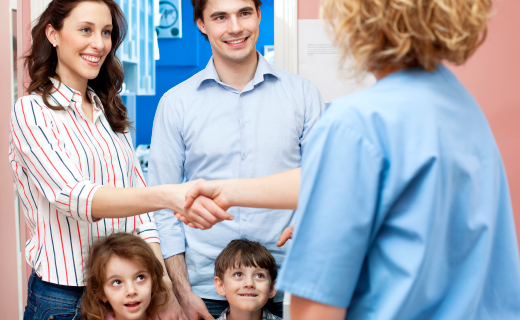 Brushing and flossing regularly is essential for a life of good oral health, but choosing the best dentist is equally important. If you've moved, or you need to change dentists for some other reason, it's imperative that you find an affordable dentist who makes you feel comfortable and gives you excellent care. After researching various providers and choosing a dentist, the next step is making sure you chose the best dentist for the job. Most of what you need to know is revealed during the initial consultation, so get your insurance details and medical history together, and head to the clinic.
What to Look for When Choosing a Dentist
You'll learn a great deal about the dental practice before you even see the new dentist. Be observant and be aware of the following:
Was the dentist's office clean and orderly?
Was the staff friendly and attentive?
Did they request your medical or insurance information?
When you meet the dentist, notice your emotional reaction. With the right chemistry, you should feel at ease. If you feel reserved or intimidated, you may not have found the best dentist for you. The dentist should be willing to discuss any of your concerns in a way that is easy for you to understand.
Ask these questions to learn more about your treatment:
What types of treatment options are offered?
Is preventative care provided?
Will I be regularly evaluated for periodontal disease?
What kinds of anesthesia and sedation methods are available?
Will my medical history be reviewed and updated regularly?
The Best Dentist 
for Your Personality
While your first visit to the dentist will be revealing, you'll learn even more on subsequent visits. Your exams and dental procedures should never seem rushed, and you should never have to wait for long periods without any acknowledgment. You'll know you made a sound decision when you see that you're being treated with respect and care. Choosing an affordable dentist who takes the time to attend to your needs, answer your questions, and explain every treatment plan thoroughly ensures that you've found the best dentist.
To get the dental care you deserve from an affordable dentist in Baltimore, call Dental One Associates of Maryland today at or make an appointment.
Dental One Associates offers affordable family dentistry and gentle, compassionate dental care in Baltimore. With 12 affiliated practices throughout Maryland, our offices are conveniently located with extended hours to meet your needs. At Dental One Associates of Maryland, we provide most dental services, from basic preventative care and general dentistry to specialized procedures and complete dental reconstruction. We accept most dental insurance plans and offer affordable financial solutions for any budget. Patient satisfaction is our top priority and we strive to provide the exceptional, affordable dental care and personal touch that lead to lasting relationships. A smiling patient is our greatest reward and we look forward to keeping those smiles healthy, beautiful, and bright. Discover an affordable dentist who truly cares at Dental One Associates of Maryland.