Posted under:
General
Posted on: May 10, 2015
Your Eating Disorder and Teeth Troubles Are Related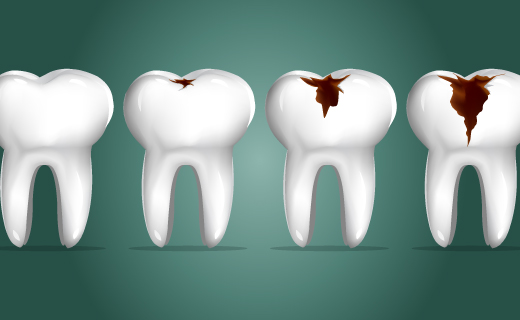 If you struggle with unhealthy eating behaviors or distorted body image, you're not alone. Anorexia and bulimia are common eating disorders that affect millions of women and men. Both lead to serious medical problems and deteriorating dental health. If you have bulimia, you may eat large amounts of food and then purge by vomiting. Some bulimics also use laxatives or exercise to purge. If you suffer from anorexia, you may follow an extremely restrictive diet that doesn't provide the nutrition and energy your body needs; you may believe that you are fat even though you are severely underweight. Both of these eating disorders lead to nutritional deficits that damage major organs and body systems; they can also ruin your smile by destroying your teeth. 


Bulimia Effects on Teeth
Frequent vomiting causes your tooth enamel to be routinely exposed to regurgitated stomach acids, which are powerful and cause rapid erosion of teeth. Besides wearing away your tooth enamel, frequently vomiting can change the color, shape, and length of your teeth. Nutritional deficiencies associated with anorexia can cause osteoporosis, which weakens the bones that support your teeth and causes tooth loss. Eating disorders also cause swelling of salivary glands and mouth tenderness. If these symptoms occurred soon after the onset of your illness, your eating disorder and teeth problems are likely related.
6 Oral Symptoms of an Eating Disorder
Anorexia nervosa and bulimia effects on teeth include the following symptoms:
Tooth sensitivity
Progressive erosion of teeth
Sore throat
Mouth tenderness or sores
Cracked, dry lips or dry mouth
Bad breath
Prevent Further Damage to Teeth
While it's critical to address both your eating disorder and teeth problems, it's best to wait until you have recovered from your anorexia or bulimia before any permanent tooth restorations are performed. While you are recovering, you can diminish erosion of teeth and other tooth damage by:
Never brushing your teeth immediately after vomiting. Instead, rinsing your mouth with plain water or a water and baking soda solution will help to neutralize damaging stomach acids.
Inquiring about temporary appliances such as mouth guards to prevent excessive wear of weakened teeth.
Talking to your physician about how to improve general nutrition and increase bone strength.
To get the dental care you deserve from an affordable dentist in Baltimore, call Dental One Associates of Maryland today at or make an appointment.
Dental One Associates offers affordable family dentistry and gentle, compassionate dental care in Baltimore. With 12 affiliated practices throughout Maryland, our offices are conveniently located with extended hours to meet your needs. At Dental One Associates of Maryland, we provide most dental services, from basic preventative care and general dentistry to specialized procedures and complete dental reconstruction. We accept most dental insurance plans and offer affordable financial solutions for any budget. Patient satisfaction is our top priority and we strive to provide the exceptional, affordable dental care and personal touch that lead to lasting relationships. A smiling patient is our greatest reward and we look forward to keeping those smiles healthy, beautiful, and bright. Discover an affordable dentist who truly cares at Dental One Associates of Maryland.