Why Childhood Tooth Decay is an Epidemic Today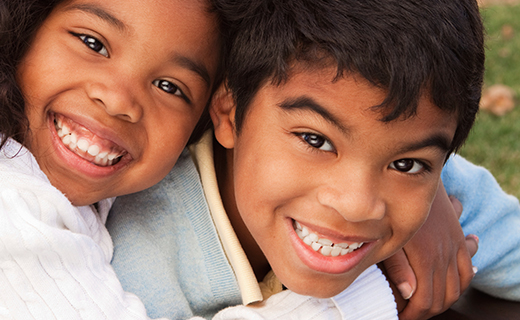 Today, cavities in kids are more than a minor inconvenience as childhood tooth decay has taken on major significance and evolved into an epidemic. According to the Centers for Disease Control and Prevention, 42% of children between ages two and eleven have had cavities in their baby teeth and 21% of kids between ages six and eleven have had cavities in their permanent teeth. The biting truth is that tooth decay is a danger to our children and parents need to be proactive to protect their kids from dental damage. Luckily, attention and awareness is coming to this childhood concern through a new education campaign from the American Academy of Pediatric Dentistry (AAPD.) The campaign helps parents brush up on tips and techniques for protecting their kids from the trouble of tooth decay.
Over the last few years, there has been an enormous increase in childhood tooth decay due to many factors, from kids' constant attachment to sugary sippy cups to improper daily dental care. Regardless of the cause, this leads to the danger of decay which punishes kids with extreme pain and extensive dental damage. In some cases, childhood cavities can go from dangerous to deadly if the bacteria from tooth decay spreads into the bloodstream.
Now with this new education campaign, parents can learn to keep tooth decay away and keep their children's smiles healthy. The campaign highlights how early detection is the key to prevention by providing these simple steps for stopping tooth decay at every age and every stage.
The ABCs of Children's Dental Care Between Birth and Two Years
• Schedule the first dental appointment by the first birthday to give kids a head start on healthy teeth.
• Before baby teeth emerge, clean your baby's mouth and gums with a soft cloth or infant toothbrush every day.
• Once your baby's teeth come in, brush them gently with a soft tiny toothbrush and a slight smear of fluoridated toothpaste twice a day. This smear of fluoride is small enough to be safe for young children and sufficient enough to strengthen their forming  teeth.
• Only give your children water before bedtime because sugary drinks will expose their tiny teeth to cavity-causing bacteria and acid throughout the night.
Top Tooth Tips for Children Ages Two to Five
• Schedule routine cleanings for your children every six months with an expert in family dentistry.
• Help brush your children's teeth both morning and night with a pea-sized amount of fluoridate-filled toothpaste. These tots are too young to brush well alone, so parents need to make sure that kids brush carefully and completely.
• Start flossing your children's teeth as soon as two teeth begin touching.
• Keep an eye on your children's sugar intake and limit their juice serving to less than six ounces per day to curb cavities.
Dental Damage Control for Older Childen
• Supervise your children's brushing until they are at least seven years old to make sure that they're brushing their best.
• Teach kids to always follow brushing with flossing.
• Limit your children's intake of high-energy drinks, super-sized sugary beverages and even juice pouches because their sugars and acids can erode the enamel on teeth and cause cavities.
• Let your children chew sugarless gum with xylitol. Chewing stimulates saliva production to wash away the plaque and particles that can cause cavities.
The epidemic of childhood tooth decay has brought urgent attention to the dangers and damage of dental decay. Follow these smile-savvy suggestions and encourage other parents to follow your lead to keep your children's teeth safe and strong.
To learn about our family dentistry practice in Baltimore, call Dental One Associates of Maryland today at or make an appointment.
Dental One Associates offers affordable family dentistry and gentle, compassionate dental care in Baltimore. With 11 affiliated practices throughout Maryland, our offices are conveniently located with extended hours to meet your needs. At Dental One Associates of Maryland, we provide most dental services, from basic preventative care and general dentistry to specialized procedures and complete dental reconstruction. We accept most dental insurance plans and offer affordable financial solutions for any budget. Patient satisfaction is our top priority and we strive to provide the exceptional, affordable dental care and personal touch that lead to lasting relationships. A smiling patient is our greatest reward and we look forward to keeping those smiles healthy, beautiful, and bright. Discover an affordable dentist who truly cares at Dental One Associates of Maryland.