Posted under:
General
Posted on: December 21, 2014
When Tooth Extraction Is the Right Answer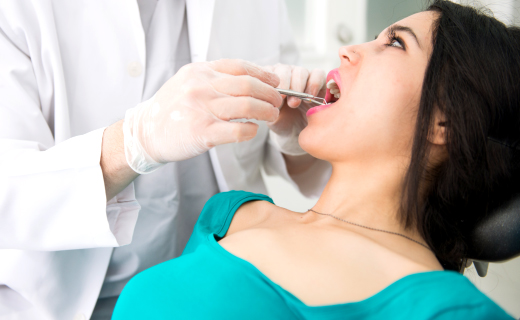 Despite treatment, some teeth can't be saved. A dental extraction may be necessary if tooth decay, infection, gum disease, or root canal failure leaves a tooth too damaged to benefit from further treatment. Simple tooth extractions may be performed using a local anesthetic. If more than one tooth will be removed, your dentist may offer general anesthesia, so you can remain unconscious during the procedure. After the extraction, you may receive several stitches to close the wound. If bleeding occurs, biting on gauze or cotton will help stop it.
After a Dental Extraction
Following are some helpful tips that will hasten recovery after a dental extraction:
Apply ice or a cold pack to the outside of your mouth to reduce swelling.
Take prescription pain medications as directed.
After the first 24 hours, rinse with warm, salty water several times a day.
Replace gauze pads often.
Avoid physical activity for a day or so to help prevent excessive bleeding.
Eat soft foods for a few days.
Solid foods can be added in gradually as tolerated.
Brush your teeth carefully.
Do not rub the extraction site with your tongue.
Do not drink through a straw.
Do not smoke or use tobacco.
Tooth Extractions and Preexisting Conditions 
Tooth extractions and other dental procedures can sometimes release bacteria into the bloodstream and cause remote infections. You may need to take antibiotics if you have an increased risk of infection. If you have any of the following conditions, tell your dentist about them before treatment.
Artificial body parts such as manmade joints or heart valves
Heart conditions such as mitral valve prolapse
Reduced immunity from diabetes, autoimmune diseases, HIV, or chemotherapy
Recent major illnesses or surgeries
Diseased teeth should be extracted as soon as possible so that infection doesn't spread. Your missing tooth or teeth may be replaced by implants, dentures, or dental bridges, depending on your needs. Seek advice from a qualified, affordable dentist to determine the best course of treatment.
To learn about our family dentistry practice in Baltimore, call Dental One Associates of Maryland today at or make an appointment.
Dental One Associates offers affordable family dentistry and gentle, compassionate dental care in Baltimore. With 12 affiliated practices throughout Maryland, our offices are conveniently located with extended hours to meet your needs. At Dental One Associates of Maryland, we provide most dental services, from basic preventative care and general dentistry to specialized procedures and complete dental reconstruction. We accept most dental insurance plans and offer affordable financial solutions for any budget. Patient satisfaction is our top priority and we strive to provide the exceptional, affordable dental care and personal touch that lead to lasting relationships. A smiling patient is our greatest reward and we look forward to keeping those smiles healthy, beautiful, and bright. Discover an affordable dentist who truly cares at Dental One Associates of Maryland.