Posted under:
General
Posted on: January 18, 2015
What to Do for a Chipped Tooth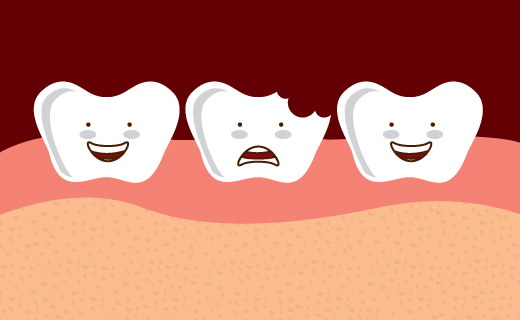 No one wants a jagged smile, but chipped teeth occur every day. An impact to your tooth from the right angle can cause the brittle enamel at the edges of your front teeth to sliver off. Your molars are at risk from hard foods like popcorn kernels and ice. When an injury first occurs, it might be hard to determine how much damage has been done. In general, a chipped tooth that only involves the enamel will look unsightly, but it won't hurt. A deeper injury that affects the dentin usually causes sensitivity to hot or cold foods. If the inside of your chipped tooth looks a little red, it's a sign that the nerve chamber has been damaged or exposed.
If you suffer a chipped tooth, find an affordable dentist in Baltimore and get treatment as quickly as possible.
See a Dentist for Treatment
You should see a dentist for any type of tooth injury. A crack may be running through your tooth without causing obvious symptoms, but it could be a serious problem in the future. X-rays can determine if the root of the tooth has suffered damage. You may not need to rush if you are not in distress, but be watchful for signs of infection or abscesses such as swelling, pain, foul odors, or bad tastes.


Relieving Discomfort at Home
When a chipped tooth is causing discomfort, cover it with sugar-free gum or dental wax. If you experience pain, try applying a small amount of clove oil. Minor injuries may not require diet changes, but avoid chewing hard foods with the chipped tooth as this can increase the damage. 

 Don't try to file a jagged tooth down yourself.
If you play sports, use a mouth guard; you can buy the boil-and-bite variety in drugstores, or ask a dentist for a custom-molded one. When you're eating, try to avoid hard foods like ice, popcorn kernels, and anything that requires excessive force to chew. Unfortunately, you can't prevent all accidents.
To get the dental care you deserve from an affordable dentist in Baltimore, call Dental One Associates of Maryland today at or make an appointment.
Dental One Associates offers affordable family dentistry and gentle, compassionate dental care in Baltimore. With 12 affiliated practices throughout Maryland, our offices are conveniently located with extended hours to meet your needs. At Dental One Associates of Maryland, we provide most dental services, from basic preventative care and general dentistry to specialized procedures and complete dental reconstruction. We accept most dental insurance plans and offer affordable financial solutions for any budget. Patient satisfaction is our top priority and we strive to provide the exceptional, affordable dental care and personal touch that lead to lasting relationships. A smiling patient is our greatest reward and we look forward to keeping those smiles healthy, beautiful, and bright. Discover an affordable dentist who truly cares at Dental One Associates of Maryland.