Transitioning to the Table – Learning to Eat with Dentures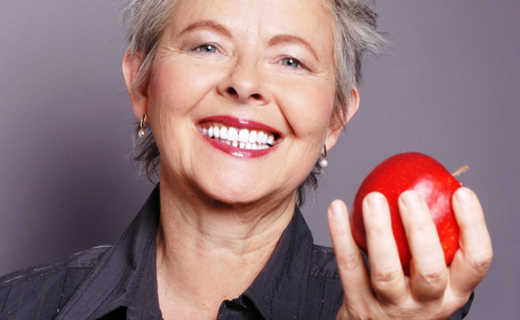 If permanent dentures are on your immediate horizon, perhaps you are eagerly anticipating the ability to eat your favorite foods without worry. However, many new denture wearers are startled to find that dining is not necessarily the pleasurable experience they once knew, at least during the early days. Fear not, though, because an affordable dentist in Baltimore can offer strategies to help make the transition to dentures much easier and help you resume eating the foods you love.
As you are getting used to your new set of dentures, it makes sense to stick with a diet of softer food items including fish, cooked vegetables, and eggs. Once eating starts to feel a bit more natural and comfortable, you will be able to incorporate additional foods of varying textures and crunchiness. A good tip to make menu expansion easier is to simply cut chewy, tough items into smaller pieces.
In the beginning, you may feel as though food is not as flavorful as it used to be. The fact is that your mouth is still adjusting to the sensations of wearing dentures and the messages being sent to your brain may overtake messages relating to taste. The good news is that as you get more accustomed to denture wear, your ability to appreciate flavors will return.
Also, newcomers to the world of dentures often have difficulty sensing when foods or beverages are extremely hot. While this is nothing unusual, it is important to take care that you do not inadvertently burn the inside of your mouth.
When crunchy foods such as corn on the cob are on the menu, you may want to use denture adhesive to help keep your dentures secure. Adhesives are also great for preventing food particles from lodging beneath your dentures, something known for producing bad breath.
Finally, being conscientious about how you chew can make a surprisingly big difference in how your dentures feel and how quickly you adjust to them. Deliberately chewing part of your food on the left side of your mouth and part on the right helps ensure that the pressure placed on your dentures is equalized.
To get the dental care you deserve from an affordable dentist in Baltimore, call Dental One Associates of Maryland today at or make an appointment.
Dental One Associates offers affordable family dentistry and gentle, compassionate dental care in Baltimore. With 11 affiliated practices throughout Maryland, our offices are conveniently located with extended hours to meet your needs. At Dental One Associates of Maryland, we provide most dental services, from basic preventative care and general dentistry to specialized procedures and complete dental reconstruction. We accept most dental insurance plans and offer affordable financial solutions for any budget. Patient satisfaction is our top priority and we strive to provide the exceptional, affordable dental care and personal touch that lead to lasting relationships. A smiling patient is our greatest reward and we look forward to keeping those smiles healthy, beautiful, and bright. Discover an affordable dentist who truly cares at Dental One Associates of Maryland.