Tips for Cavity Prevention and Reversal in Children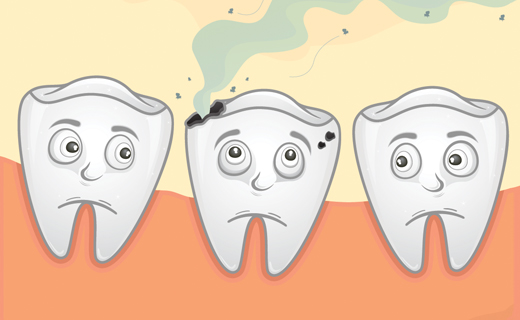 Does your child have cavities? Tooth decay in children is extremely common, but it can be prevented. You probably think of a cavity as simply a hole in a tooth, but it is actually the result of a process that occurs over time. With good oral care, you can actually prevent or reverse the process. The following information can help you stop tooth decay in its tracks, and make your children's cavities a memory. Before you take action, it is helpful to understand the process of tooth decay.
The Process of Tooth Decay
The human mouth is full of various types of bacteria, and some of them are harmful. The tooth decay process begins when a sticky, bacteria-laden film called plaque forms on teeth after eating. Bacteria contained in plaque interact with sugars and starches to make acids; the acids eat away at the tooth enamel and eventually form a cavity. Minerals in saliva and fluoride from water and other sources work together to repair the damage, but tooth decay develops if oral hygiene is poor. The children tooth decay affects most are those who don't brush and floss regularly to counteract the frequent acid exposure.
Essential Cavity Prevention Tips
1. Supervise oral hygiene until a child is seven or eight years old.
2. Have children brush two times every day and floss daily.
3. Limit snacks to reduce acid exposure.
4. Save candy, cookies, and soda for special occasions.
5. Limit fruit juice consumption, and don't use sippy cups.
6. Do not allow nighttime snacks after brushing.
Affordable Dentists: Your Lifeline for Cavity Prevention
Your dentist in Baltimore can help by providing professional treatments like dental sealants that cover the chewing surfaces to teeth to prevent bacteria and plaque from collecting in the natural pits and grooves of molars. Professional fluoride treatments may also be useful, especially if your children do not get enough fluoride from water consumption. Regular dental visits are the best way to ensure that tooth decay is addressed early. If you keep your children's dental appointments now, there will be fewer in the future.
To learn about our family dentistry practice in Baltimore, call Dental One Associates of Maryland today at or make an appointment.
Dental One Associates offers affordable family dentistry and gentle, compassionate dental care in Baltimore. With 12 affiliated practices throughout Maryland, our offices are conveniently located with extended hours to meet your needs. At Dental One Associates of Maryland, we provide most dental services, from basic preventative care and general dentistry to specialized procedures and complete dental reconstruction. We accept most dental insurance plans and offer affordable financial solutions for any budget. Patient satisfaction is our top priority and we strive to provide the exceptional, affordable dental care and personal touch that lead to lasting relationships. A smiling patient is our greatest reward and we look forward to keeping those smiles healthy, beautiful, and bright. Discover an affordable dentist who truly cares at Dental One Associates of Maryland.