The Cause and Effect of Gum Disease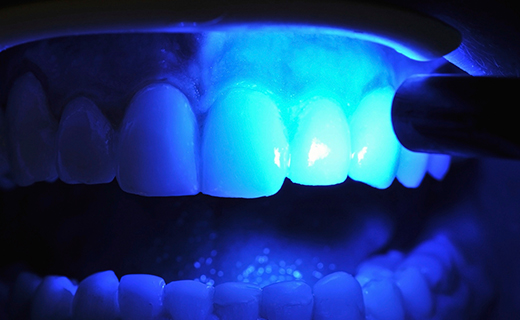 Gum disease affects 75 percent of the American adult population and is the leading cause of tooth loss in the country. It is estimated that more 47 percent of affected individuals are ages 30 to 65—gum disease and tooth loss aren't just issues for the elderly. Daunting statistics like these don't have to be the standard—gum disease is a highly preventable condition. Basic, routine dental care habits, such as daily brushing, flossing, and regular visits to the dentist can ensure that your gums stay healthy and your teeth remain firmly in place.
Gum disease begins as a condition known as gingivitis. Gingivitis is an inflammation of the gums and is trademarked by red, swollen gums that often bleed easily while brushing. Gingivitis is the earliest stage of gum disease and can be reversed with diligent dental care and intensive gingivitis treatment.
What Causes Gingivitis?
Forgetting or skipping a routine brushing, flossing, or swigging of mouthwash leaves food particles and sticky bacteria, known as plaque, sitting on your teeth. Over time—as little as twenty minutes after eating or drinking—plaque releases acids that erode the enamel of the teeth, causing tooth decay. Within in 72 hours, the plaque hardens and becomes tartar, which require professional dental care for removal. Most tartar forms along the gum line, making certain areas difficult to clean. Left untreated, the plaque and tartar spreads to the gums, causing inflammation and irritation that is known as gingivitis.
What Causes Gum Disease?
Gingivitis is known as the early stage of gum disease, but development is highly dependent upon your body's ability to fight the effects of plaque and bacteria in the mouth. Gingivitis can develop into gum disease, also known as periodontitis, due to any one of the following factors:
Tobacco use. Smoking or chewing tobacco is the number one cause of gum disease in the country, according to the American Dental Association
Genetics. Activation of certain genes and inherited conditions of immune response have been linked to a predisposition for gum disease. It is estimated that approximately 30 percent of people are affected by gum disease due to genetic outcomes.
Bacteria. There are more than 400 species of bacteria that live in the mouth. And, while only 15 contribute to gum disease, they are often aggressive if left untreated with routine dental care.
Uncontrolled diabetes. Diabetes can impact gum disease by making affected persons more susceptible to infection. By the same token, gum disease can make controlling diabetes more difficult.
The signs and symptoms of gingivitis and gum disease can be subtle, if present at all. This makes frequent visits to your family dentistry experts essential to an early diagnosis and successful gum disease or gingivitis treatment.
To get the dental care you deserve from an affordable dentist in Baltimore, call Dental One Associates of Maryland today at or make an appointment.
Dental One Associates offers affordable family dentistry and gentle, compassionate dental care in Baltimore. With 11 affiliated practices throughout Maryland, our offices are conveniently located with extended hours to meet your needs. At Dental One Associates of Maryland, we provide most dental services, from basic preventative care and general dentistry to specialized procedures and complete dental reconstruction. We accept most dental insurance plans and offer affordable financial solutions for any budget. Patient satisfaction is our top priority and we strive to provide the exceptional, affordable dental care and personal touch that lead to lasting relationships. A smiling patient is our greatest reward and we look forward to keeping those smiles healthy, beautiful, and bright. Discover an affordable dentist who truly cares at Dental One Associates of Maryland.