Proper Brushing Habits for Healthy Teeth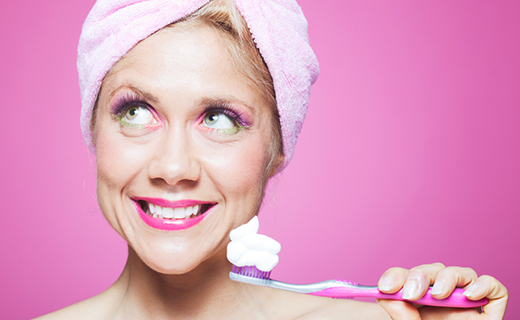 Sure, you've been brushing your teeth since you got them—you know what you're doing, right? While tooth brushing is hardly a difficult skill, doing it right can make all the difference in your oral health throughout your life. Brushing properly and regularly removes plaque and food particles that stick to your teeth after drinking or eating. Failure to appropriately and promptly remove plaque can lead to calcification or forming tartar—a byproduct that can only be removed professionally by your dental care team. Plaque that lingers for too long can also lead to the gum disease, gingivitis, and tooth decay. So, even if you have been brushing for almost your whole life, a refresher course in tooth brushing techniques can ensure that your pearly whites stay beautiful and in place for the rest of your life.
How to Brush Your Teeth
Most dental professionals can agree that these tips and techniques for brushing your teeth will help optimally preserve the health of your teeth and gums:
Brush all of your teeth. Include hard-to-reach areas and even sensitive teeth. If it hurts to brush an area, see an affordable dentist in Baltimore.
Round and round. Use a gentle circular motion, rather than vigorous up-and-down brushing to prevent unhealthy wear and tear of the teeth and gums.
Divide and conquer. Divide your mouth into four sections and aim to spend equal time and effort brushing each section.
Timing is everything. Most family dentistry professionals recommend brushing your teeth for a minimum of two minutes to remove bacteria and food particles from all areas of the mouth.
Own the right tools. Replace your toothbrush every three to four months to ensure that your toothbrush can effectively clean your teeth and gums.
Using the Best Tools for Proper Tooth Brushing
Proper dental care technique means nothing if you aren't working with the right set of tools. Know how to choose the right toothbrush, toothpaste, and floss to keep your mouth clean and healthy:
Use recommended products. Look for the American Dental Association (ADA) seal of approval on your oral care products.
Maximize the potential of your products. Choose oral care products that offer several benefits to care for your teeth. This can make daily dental care more affordable, by avoiding an excessive number of products and maximize your time and outcomes when caring for your teeth. Seek toothpastes with multiple functions, such as fighting cavities, plaque, tartar and gingivitis, whitening teeth and reducing bad breath. Or, get toothbrushes that double as a tongue and gum cleaner.
Stock your toolbox.  Don't forget products like mouthwash to protect against plaque and gingivitis, or floss to release trapped food particles and maintain beautiful, healthy gums.
Brushing keeps your teeth in great condition, but proper brushing keeps your teeth in excellent condition. Don't you want the very best for the health of your smile?
To learn about our family dentistry practice in Baltimore, call Dental One Associates of Maryland today at or make an appointment.
Dental One Associates offers affordable family dentistry and gentle, compassionate dental care in Baltimore. With 11 affiliated practices throughout Maryland, our offices are conveniently located with extended hours to meet your needs. At Dental One Associates of Maryland, we provide most dental services, from basic preventative care and general dentistry to specialized procedures and complete dental reconstruction. We accept most dental insurance plans and offer affordable financial solutions for any budget. Patient satisfaction is our top priority and we strive to provide the exceptional, affordable dental care and personal touch that lead to lasting relationships. A smiling patient is our greatest reward and we look forward to keeping those smiles healthy, beautiful, and bright. Discover an affordable dentist who truly cares at Dental One Associates of Maryland.