Posted under:
General
Posted on: March 1, 2015
Get to the Root of Relief for Root Canal Pain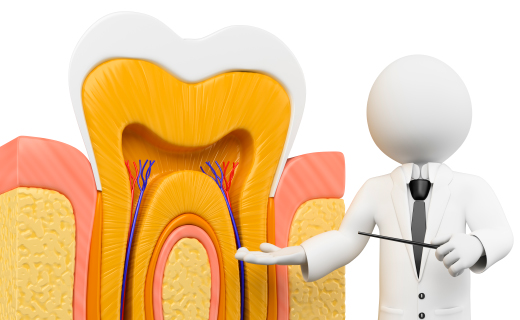 Do you need to get a root canal but don't know what to expect? A root canal is performed is when decay has damaged or infected a tooth. This treatment has become extremely common because it completely removes all decay and infection to help you avoid later dental distress. In addition to easing infections, a root canal can also relieve a toothache and promote proper healing. Dentists can perform the procedure, but you may require a root canal specialist called an endodontist. Your dentist can refer you to an expert in endodontics in Baltimore. Remember that a root canal can soothe your tooth pain, so any rumors about root canal pain are simply not true. The procedure is actually as painless as getting a filling.
If your dentist advises that you need a root canal, you should have the procedure performed as soon as possible because you don't want the infection to spread to nearby areas. You can ease your mind and your tooth with this helpful guide to the root canal remedy:
A local anesthetic is sometimes used to numb the area around the tooth.
The tooth is separated from other teeth with a small sheet of rubber on a metal frame.
A hole is drilled into the tooth to allow the dentist to perform the root canal.
The damaged pulp and nerve from the tooth are removed and any remaining decay or infection is removed.
The interior of the tooth is replaced with a filling and the tooth is sealed with a crown.
In cases of extreme infection, a temporary filling may be placed on the tooth to allow a few days for healing before a permanent crown is secured into place.
After the root canal, you may be numb for a few hours until the anesthetic wears off. If you experience any post-root canal pain, simply take an over-the-counter pain medication. Brush and floss your teeth as usual, and follow any instructions about follow-up appointments. You should be able to return to your regular activities the very next day.
Because a root canal is usually a necessary medical procedure, many insurance providers cover the cost, but this varies by your level of coverage and particular case. Ask your dentist about affordable dental care options, as well as specialists in endodontics in [GEIOD] who accept your coverage or allow for financing.
To learn about our family dentistry practice in Baltimore, call Dental One Associates of Maryland today at or make an appointment.
Dental One Associates offers affordable family dentistry and gentle, compassionate dental care in Baltimore. With 12 affiliated practices throughout Maryland, our offices are conveniently located with extended hours to meet your needs. At Dental One Associates of Maryland, we provide most dental services, from basic preventative care and general dentistry to specialized procedures and complete dental reconstruction. We accept most dental insurance plans and offer affordable financial solutions for any budget. Patient satisfaction is our top priority and we strive to provide the exceptional, affordable dental care and personal touch that lead to lasting relationships. A smiling patient is our greatest reward and we look forward to keeping those smiles healthy, beautiful, and bright. Discover an affordable dentist who truly cares at Dental One Associates of Maryland.