Dental Implants – An Alternative to Dentures and Bridges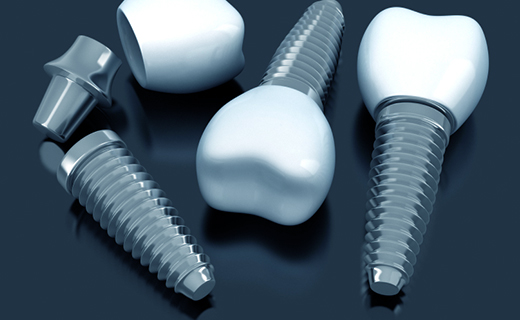 Dental implants are the most recommended and highly sought-after solution for broken or missing teeth. Men and women suffering from lost and missing teeth find that dental implants offer the same form and function as natural teeth without any of the hassles that often come with dentures and bridges. Most individuals in good health are candidates for dental implants and find the costs reasonable for the lifespan of the replacement. If you are considering solutions for lost or missing teeth, learn more about dental implants and talk to your dental care team to determine if affordable dental implants are the right fit for you.
Candidates for Dental Implants – Most individuals with lost or missing teeth are candidates for dental implants. You should be in good health and/or have any diseases or conditions under tight control. Tobacco users and those suffering from alcoholism may also require additional support before becoming eligible for dental implants. Your dentist in Baltimore may work closely with your primary care physician to help you determine and achieve candidacy.
Other influencing factors include the state of your mouth and jawbone. X-rays and teeth molds may be necessary to properly assess eligibility. Bone loss often occurs with tooth loss. This can impact your candidacy because without a stable jawbone, there is no stable support system for the implant. Like most things, if you don't use it, you lose it. Your teeth and bones are the same way. Individuals who have suffered extensive tooth loss will find that the bone surrounding the missing tooth or teeth begins to become soft without stimulation. For this reason, replacements for lost teeth should be pursued shortly after loss occurs. Just one year without stimulation can cause a 25 percent loss of bone.
If you have experienced bone loss, there are surgical techniques available to regenerate bone. The best feature of dental implants is their ability to preserve the jawbone. Unlike dentures and bridges, implants deliver the same stimulation as natural teeth.
Your dental care team can help you assess your oral and total health to determine if you are a candidate. They will make recommendations to ensure that you get the best dental implants that not only address your problems, but also offer the most optimal outcomes.
If it is determined that implants are the best option for you, a specialized dental implant dentist or an oral surgeon may be recommended to you. You may even want to seek several opinions before coming to a final decision. While dental implants are the preferred choice, it is a serious surgery and your overall health is the priority.
To learn about our family dentistry practice in Baltimore, call Dental One Associates of Maryland today at or make an appointment.
Dental One Associates offers affordable family dentistry and gentle, compassionate dental care in Baltimore. With 11 affiliated practices throughout Maryland, our offices are conveniently located with extended hours to meet your needs. At Dental One Associates of Maryland, we provide most dental services, from basic preventative care and general dentistry to specialized procedures and complete dental reconstruction. We accept most dental insurance plans and offer affordable financial solutions for any budget. Patient satisfaction is our top priority and we strive to provide the exceptional, affordable dental care and personal touch that lead to lasting relationships. A smiling patient is our greatest reward and we look forward to keeping those smiles healthy, beautiful, and bright. Discover an affordable dentist who truly cares at Dental One Associates of Maryland.