Posted under:
General
Posted on: February 15, 2015
Advanced Dental Surgery and Your Oral Surgeon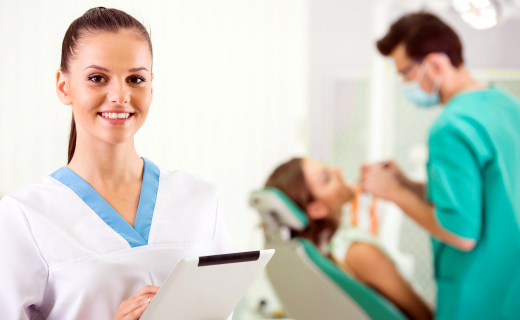 Most dental problems can be treated by a family dentist, but in some cases, oral surgery is required. Oral surgeons are specialists who perform procedures such as implant placements and wisdom tooth extractions. They also treat other problems related to the mouth, face, and jaw including oral cancer and sleep apnea. Some procedures must be performed in a hospital, but dental surgeons can handle minor surgeries in an office setting with the use of local anesthesia or conscious sedation.
5 Common Oral Surgery Procedures
Some of the most common procedures performed by oral surgeons include:
Surgical removal of impacted teeth is necessary when teeth cannot emerge from inside the jaw or gum tissue on their own. Wisdom tooth impaction is extremely common.
Dental implant surgery is an involved process that occurs in stages and can take many months to complete. Implants replace missing teeth with natural-looking artificial ones. The specific details of the process vary based on the type of implants used and the condition of your jawbone.
Corrective jaw surgery can resolve problems with your temporomandibular joint, correct your bite, and improve the fit of your dentures.
Cosmetic dental surgical procedures enhance the look of your smile. Examples of cosmetic procedures performed by oral surgeons include the placement of implants, dental veneers, and crowns. Certain types of gum surgery and crown lengthening procedures are also considered forms of cosmetic dentistry.
Correction of facial deformities such as cleft palate or lip, and treatment of injuries to the face, mouth, or jaws are also specialties of the oral surgeon.
Before and After Dental Surgery
Prior to your surgery date, consult your oral surgeon to learn what your procedure will involve and how to prepare for it. Points to discuss include the type of anesthesia that will be used, wound care, dental hygiene, diet, and activity restrictions. During your recovery, you may experience some discomfort or pain, swelling of the face or gums, minor bleeding, and jaw stiffness. If the symptoms get worse or persist longer than expected, contact your oral surgeon for advice. Follow all post-operative instructions for the best results.
To get the dental care you deserve from an affordable dentist in Baltimore, call Dental One Associates of Maryland today at or make an appointment.
Dental One Associates offers affordable family dentistry and gentle, compassionate dental care in Baltimore. With 12 affiliated practices throughout Maryland, our offices are conveniently located with extended hours to meet your needs. At Dental One Associates of Maryland, we provide most dental services, from basic preventative care and general dentistry to specialized procedures and complete dental reconstruction. We accept most dental insurance plans and offer affordable financial solutions for any budget. Patient satisfaction is our top priority and we strive to provide the exceptional, affordable dental care and personal touch that lead to lasting relationships. A smiling patient is our greatest reward and we look forward to keeping those smiles healthy, beautiful, and bright. Discover an affordable dentist who truly cares at Dental One Associates of Maryland.